Plant Sale at Moray College
The plant sale is held in June each year. Many Moray College UHI 3rd year Horticulture students volunteer to help raise money for the Friends of the Biblical Garden. They grow the plants and organise and run the sale. This valuable contribution counts towards the students achieving a 'Volunteering Award'.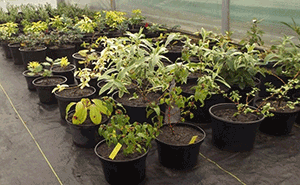 Holly Wreath Open Day
The Friends of the Biblical Garden hold a Holly Wreath Open Day, on a Saturday in November. Join us, to help make holly wreaths for our annual fundraising event. This is a great way to meet new friends, learn a new skill or share an existing skill. For a donation you can make your own holly wreath to take home. If you are interested and would like to come along to this free event please use the contact us tab to book a place. Coffee/ tea cake and biscuits will be provided.
Easter service
Every year on Easter Sunday in the Biblical Garden there is a short service starting at 6.30 am.